Xiaomi
The Redmi series has received a lot of buzz in the last few years due to its great feature. Redmi models became the most special due to lower price and better features and other Chinese companies could hardly compete with them. Perhaps due to this rivalry, a few years ago, now you can buy a lot of budget smartphones with great features in the market.
After strong components and low prices, manufacturers have started focusing on the design, look and premium of the device to attract customers. Now companies are using metal bodies instead of plastic in smartphones. Recently launched Honor 5X And LE Eco LE OneS Metal body was also given in Coolpad Note 3 The fingerprint sensor is also being given as a special feature in these budget smartphones with 3 GB of RAM.
The special thing is that after the Redmi 2 series, Xiaomi has now Redmi note 3 Has been launched at the right time. First glimpse of this smartphone in December However, the MediaTek processor was given in the original variant of the phone, while Launch in india The Redmi Note 3 has a Qualcomm chipset. Xiaomi Redmi note 2 prime Just like the Redmi Note 3 will also be a Made in India smartphone.
Redmi Note 3's two biggest rivals Lenovo Vibe K4 Note And of L.E.C.O. Le one Huh. Will this Xiaomi smartphone be able to make its presence felt in less than 15,000 categories of smartphones? Let's see what we saw in the review of this phone.
Look & Design
Redmi Note 3 is very beautiful in appearance and in gold color it gives you the feel of a premium smartphone. This phone made of a completely metal body has been given a matte finish. It is also easy to keep this smartphone clean by removing dust and dirt easily.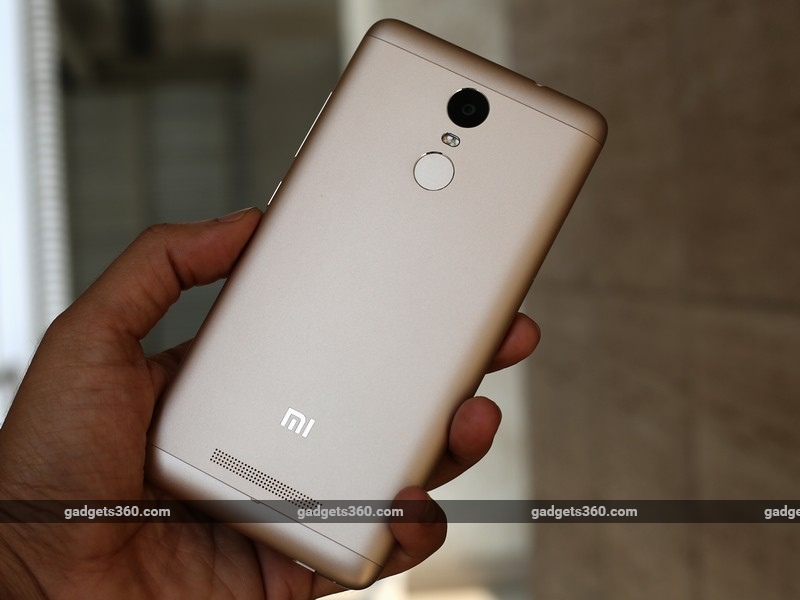 The front of the smartphone has a 5.5-inch full HD IPS display. The design of the display is good but it feels a bit strange on the ear when making calls. The display is equipped with a scratch resistant layer. At the top is a 5-megapixel camera with a notification LED for alerts. It is good to have a backlight in the capacitive button at the bottom. There are volume and power buttons on the right side while hybrid dual-SIM tray is provided on the left side. There is also an infrared (IR) ammeter with a headphone socket at the top. Standard micro-USB connectors can be used in smartphones for data transfer and charging.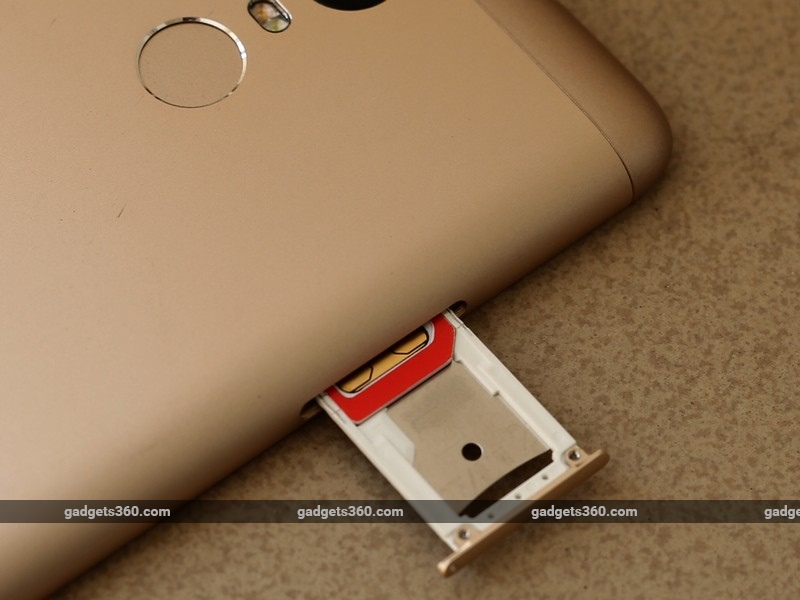 The rear features a speaker grille at the bottom with a fingerprint sensor, dual LED flash and 16 megapixel camera. You will find the Redmi Note 3 with a 10 watt charger, data cable, SIM projector tool and instruction leaflet. During the review, we saw the quality of the accessories good and hope that it will support you well.
We think that Xiaomi has made the design of this phone very good. The finish of the phone is very good and the display is also clean and bright. The colors in the IPS panel come out perfectly. In Xiaomi Redmi Note 3, Xiaomi's Sunlight Display hardware features have been provided, so that you can easily see the screen even in sunlight.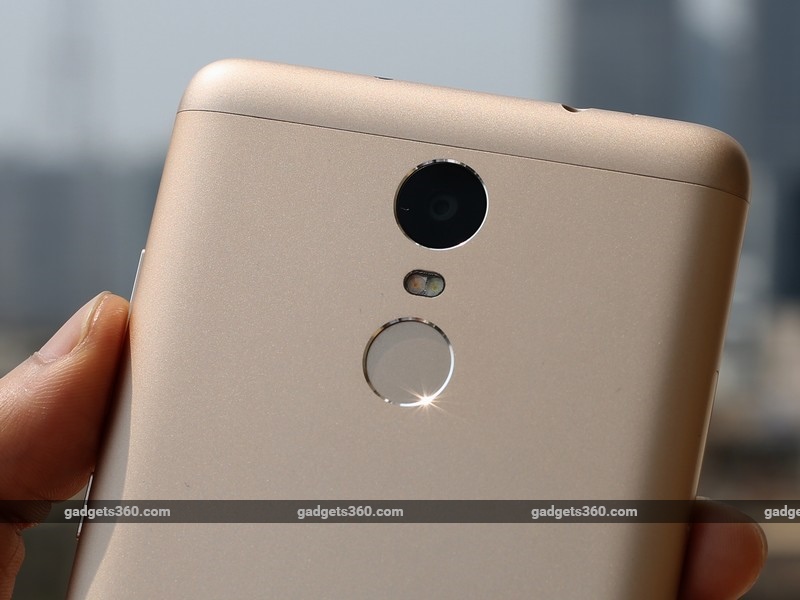 It is convenient to hold the phone in hand. Although it can be a bit difficult to use the phone from one hand, it is only 8.7 millimeters thin and extremely light.
Specification
Even though the price of Xiaomi Redmi Note 3 budget smartphone is low, but the hardware given in this phone is not less than any premium smartphone. This is the first phone with Qualcomm Snapdragon 650 processor. Like the Snapdragon 808, the Moto X Style was given a hexa-core processor, but instead of the Cortex-A57, it has a 1.8 GHz Cortex-A72. The other four cores are Cortex A-53 with 1.4 GHz. However, the phone has a new Andreno 510 GPU for graphics.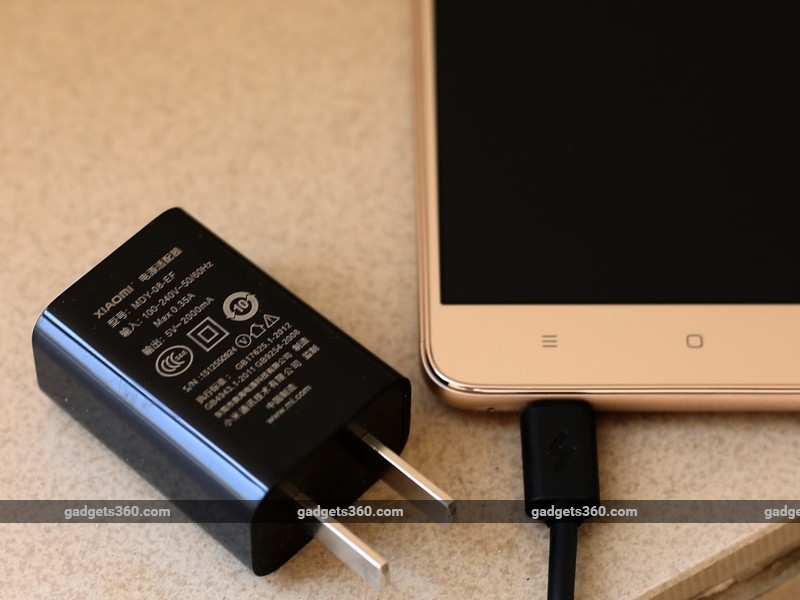 Redmi Note 3 will be available in two variants. We have 3 GB RAM and 32 GB storage variants for review, but if your budget is less then you can choose 2 GB RAM 16 GB storage variants at a price of Rs 9,999. The storage of this variant can be increased to 32 GB with the help of microSD card instead of the other SIM card in the hybrid SIM slot. Nowadays, where most phones have storage support up to 128 GB or more, the Redmi Note 3 lags behind.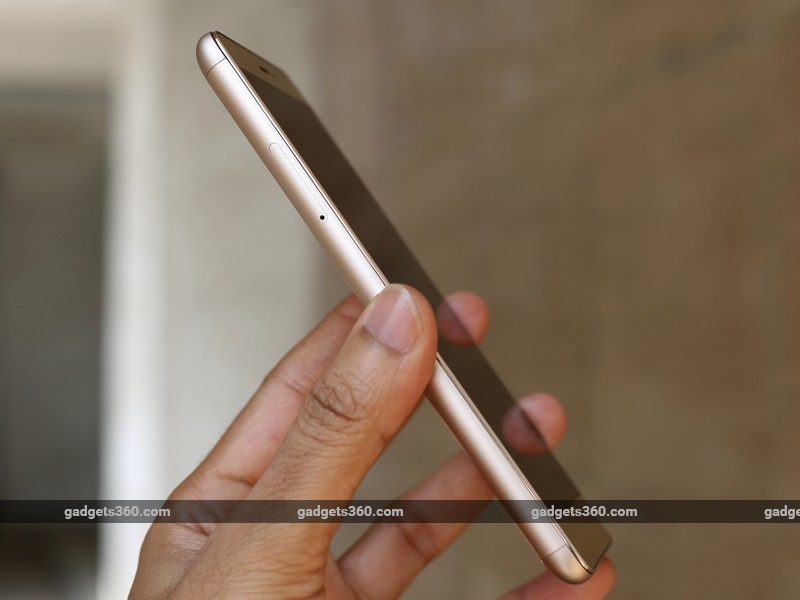 This phone equipped with Qualcomm chipset has category 7 LTE feature for 3, 5, 40 and 41 bands with VoLTE support. Along with this there is dual-band Wi-Fi B / G / N / AC, Bluetooth 4.1, USB OTG, FM radio, Miracast, GLONASS. This phone does not have NFC feature.
Software
The phone comes with Android Lollipop fork called MIUI 7. MIUI 7 is definitely much better than MIUI's older and 4th generation. It has a single layer interface but users can customize it according to their own with transition effects and themes.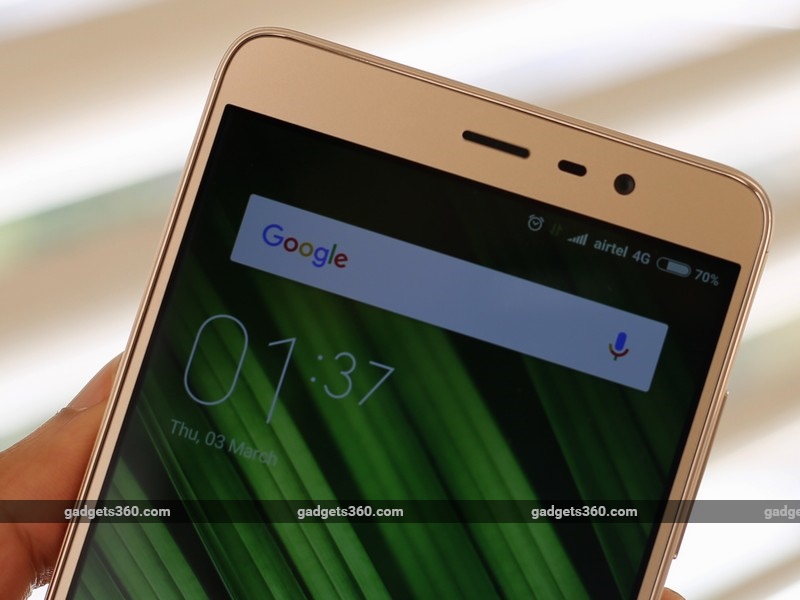 The wallpaper crawl feature has been provided in the lock screen of the phone, which allows different wallpapers to be seen from the collection selected by the user. There is also a light mode for easy and simple interface. Along with this, there is a child mode to control children on the application.
Fingerprint sensor can recognize up to 5 fingerprints. Xiaomi Vice President Hugo Bara had said during the phone launch that you can also record your lip pattern in the phone, but we failed while trying to do so.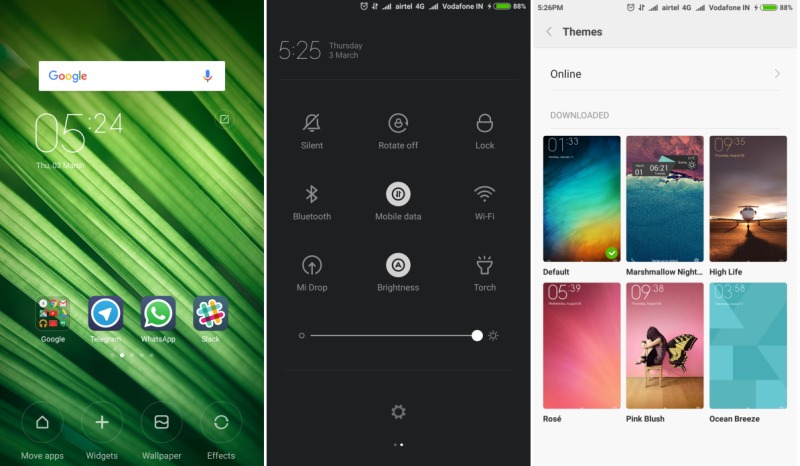 Apart from this, you can get up to 5 GB of cloud storage for your contacts, messages, photos, etc. by signing up in MI account. You can also take help of fingerprint sensor authentication to hide your private chat and message using Explorer app.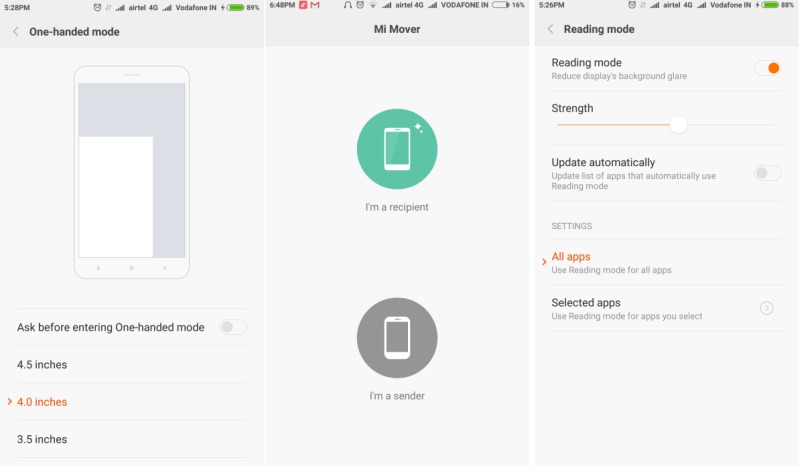 The Mi Mover application comes preinstalled in the phone, with the help of which you can transfer apps and data from any other Android device. MIUI 7 supports 13 Indic languages.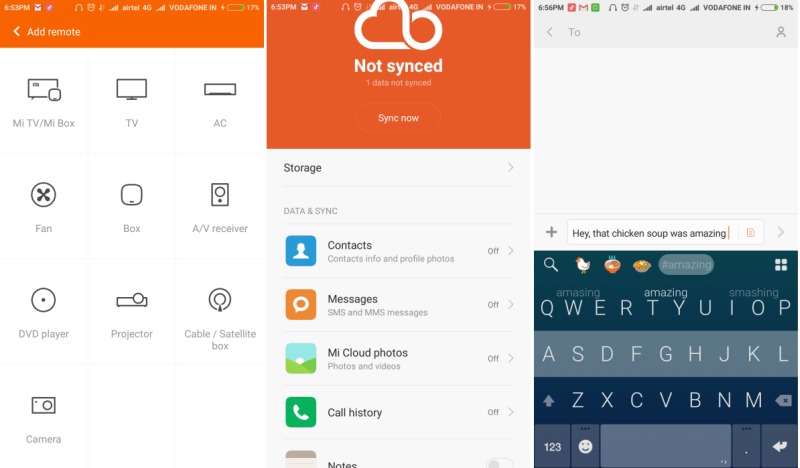 Performance
The hardware and software of Xiaomi Redmi Note 3 give you a great experience. During multitasking we did not see any problem in the interface. The call quality of the phone is good.
During our review, the phone rebooted several times during the benchmark test except for stability. During continuous video playback and video recording, the phone does not heat up nor does it feel uncomfortable.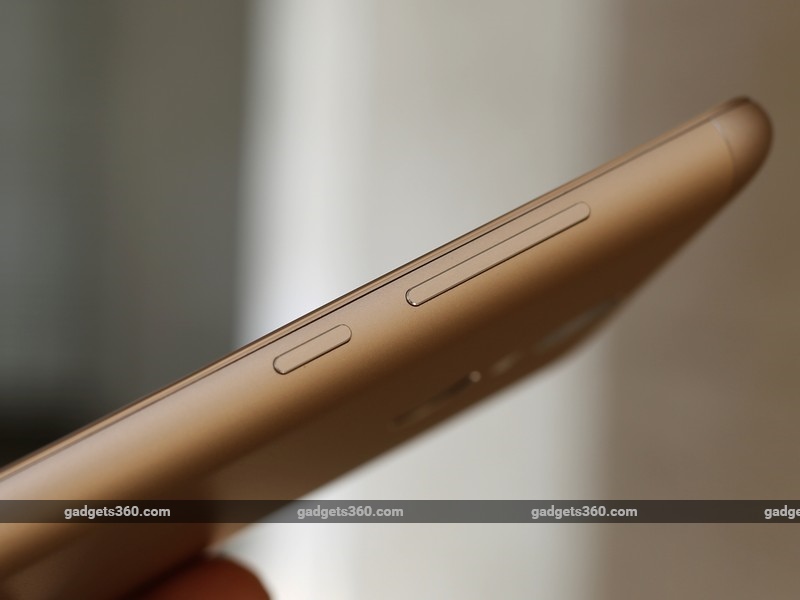 The bad thing that we saw is that it takes too much time for two sims to work together. We did not see this problem during a single sim, but when we put it in the second sim phone, it took too much time to detect it. At that time, we got to see 'No Service' message for more than 10 minutes. Even after rebooting the phone, we did not get any help. If you change most of the SIM in the phone then it may be a problem for you or else it will not make any difference to you. The fingerprint sensor in the phone works well and even when opening the lock of the phone, it runs fast.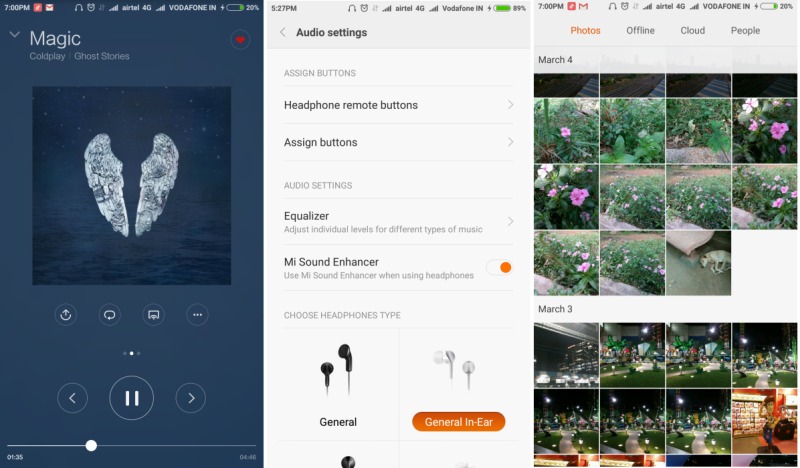 Redmi Note 3 is a great phone for multimedia due to crisp display. Audio speaker is good. The music player works well and you can switch between two different audio profiles using two different earphones. With Mi Drop, you can share instant media in other Xiaomi devices. Users will be able to use only 26.2 GB in the 32 GB version.
The camera
The Redmi Note 3 smartphone has a 16 megapixel sensor camera with wide F / 2.0 aperture. We were able to take pictures with good detail in landscape and macro shots in daylight. Color reproduction is also good. However, too much sharpness did not show when the object was zoomed too much in focus. Pictures looked very good in the phone's display.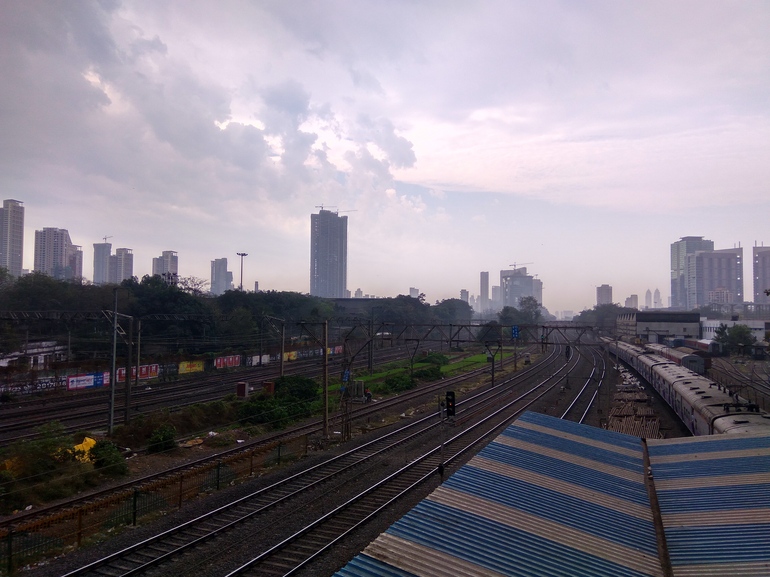 Even during artificial lighting, there was some difficulty in the sharpness and depth in the pictures taken with the camera. Photos are not too bad even in low-light. Dual tone LED flash works well for nearby objects, but don't expect too much from it. 1080p video recording is good but due to no stabilization software in video recording, stability was not seen. The front camera gets a good selfie in daylight with wide f / 2.0 aperture.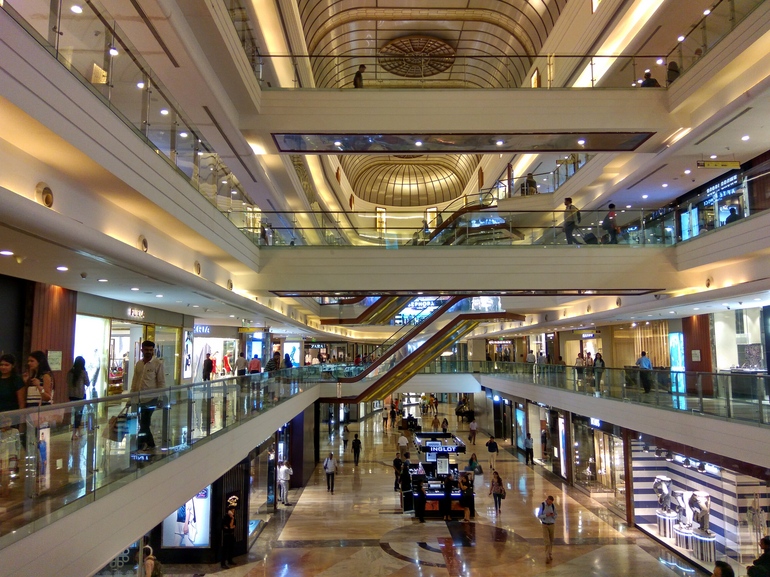 (Tap to see full picture)
battery life
With the 4050 mAh battery given in the phone, we were able to play the video continuously for 12 hours 21 minutes. The phone battery lasted for more than a day without turning on battery saving mode. The phone is equipped with Qualcomm's Quick Charge feature but we were able to charge Redmi Note 3 for 20 percent in half an hour. We will not call it super quick charge but it is better to have something than nothing.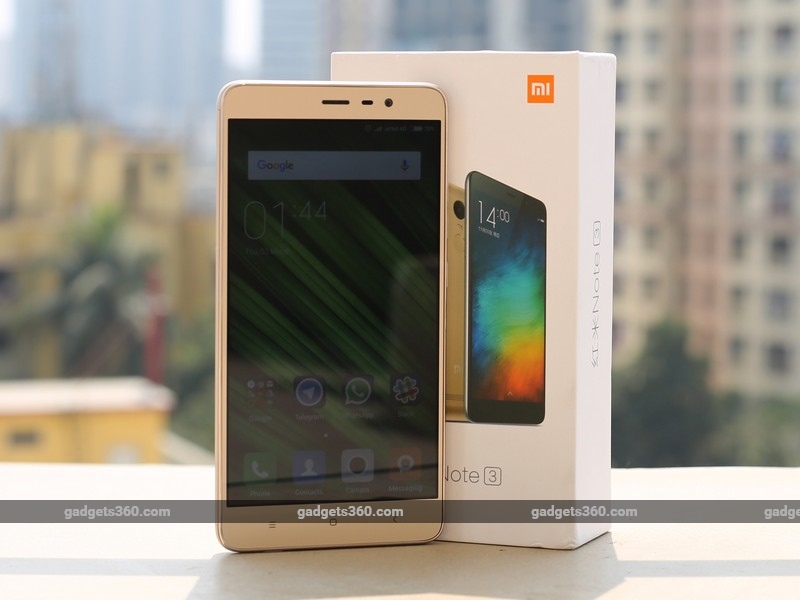 Our decision
The price of 2 GB RAM and 16 GB storage variants of Xiaomi Redmi Note 3 is Rs 9,999 and 3 GB RAM and 32 GB storage is priced at Rs 11,999. Having all these specifications at this price makes it extremely special. Xiaomi has partnered with Hungama for a 2-month free subscription streaming service to the user.
In Xiaomi Redmi Note 3, it is very difficult to find anything wrong. The metal body and fingerprint sensor given in the Redmi Note 3, launched in 2016, are given for the first time in the Xiaomi device. The phone has a display, strong battery and processor. The camera is also not bad, however, the sharpness and HD quality of its photos could have been better. We could expect more than 32 GB of storage in the phone and with NFC support, it could become a complete package phone.
Putting some things aside, we feel that the Xiaomi Redmi Note 3 can easily fit into the best smartphone under 15,000 available in the market today. If you want to choose between Redmi Note 3 and LE OneS, then definitely our vote will go to Redmi Note 3.
<! -
->
Source link
Total Page Visits: 40 - Today Page Visits: 1